Public
Welcome !
We hope you'll enjoy your presence in Falnuée this week-end. On this page, you will find all the necessary information about the tournament.
The Tournament Committee.

INITIATIONS (ouvert à tous - open to all)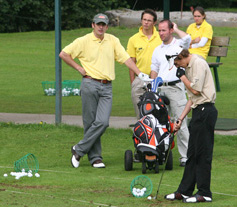 Jouez comme un pro !
Initiations gratuites avec l'un de nos professeurs pendant tout le week-end (samedi et dimanche à 15h30). Inscrivez-vous en cliquant sur le lien suivant.
Play like a Pro !
Free Golf Initiation sessions with one of the professional teacher of the golf during the week-end (saterday and sunday at 3.30pm). Please Register by following this link.
BELGIAN MASTERS 2023 LIVE !
Suivez la compétition
Venez suivre un ou plusieurs joueurs! Notre équipe d'organisation se fera un plaisir de vous accompagner sur le terrain pour vous expliquer tout ce que vous avez toujours voulu savoir sur le golf, vous faire découvrir la compétition, ce qu'est un terrain de golf, le jeu, les règles...
Présentez-vous simplement pendant tout le week-end au secrétariat, nous vous aiderons le mieux possible!
Follow the competition
Come and follow one or more players. Our team will be pleased to go with you on the golf course to help you to follow the competition, to explain you all you ever wanted to know about the game, the rules, the course...
Just visit us at the secretariat during the whole week-end, we will help you the best we can!